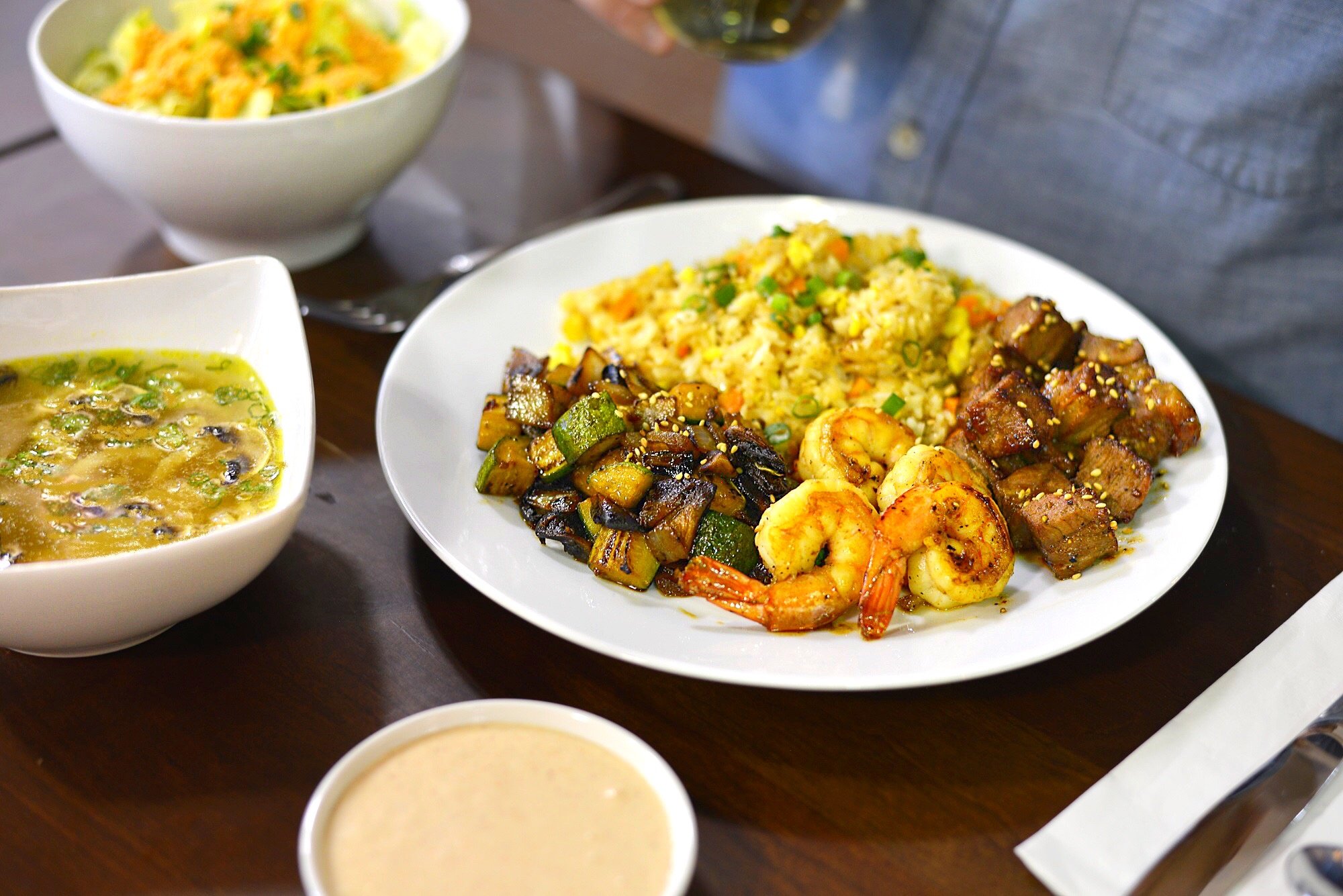 Come and learn how to get that Japanese steakhouse hibachi flavor you crave in the comfort of your own home!


We're trying to recreate everybody's favorites here, so we're going with Hibachi Beef and Shrimp with a side of mixed vegetables, and of course, fried rice. BUT that's not all! You can't forget about the house salad of iceberg and carrots with the ginger dressing, so simple and tasty, a great way to start the meal. We've got one more well kept secret to show you too, the shrimp sauce a.k.a. Yum Yum sauce, that brings some great flavor to everything else on the plate.

The best part is that now you can make this at home for less than you pay at the local hibachi restaurant, AND you can use higher quality ingredients of your own choosing.

Guests receive a 20% discount on future classes and 10% discount on any in-store purchase on the day of class!
PRICE IS $175 PER COUPLE, PURCHASE 1 SEAT PER COUPLE
Menu:
Salad with Carrot Ginger Dressing
Hibachi Style Steak & Shrimp
Hibachi Style Mixed Vegetables
Japanese Steakhouse Fried Rice
Local Craft Beer, House and Premium Wines available for purchase
Skills:
Knife Skills

Plating

Saucing

Searing

Seasoning

Chef Instructor: Timmy Kirk
Chef Timmy is a Cincinnati native, and a born roamer. He has lived in a few places around the US, Asia for 5 years, and spent a year in South America. While living abroad he traveled as much as possible, and every time he traveled, his goal was to study the cuisines and cultures of the regions he visited. He has taken more than 40 cooking classes throughout China, Korea, Thailand, India, Colombia, Italy, France, and more. He has experienced authentic flavors and techniques from around the world, and now he is bringing them back home to share the secrets with you. In Denver, Timmy was part of the team that won "Q House Chinese" the title of "Best Restaurant Denver 2018" by Eater Magazine and helped earn a nomination for "Best New Restaurant in America" by the James Beard Foundation. Although Asian cuisines are his specialty, his knowledge and skills of world cuisines is extensive. Recently, he earned his Level 1 Sommelier Certification.


Our recipes use common ingredients that may or may not be specified in the menu, including various fruits and vegetables, nuts, meats, spices, wheat flours, etc. If you have a food allergy or dietary restriction we should be aware of, please call or email before attending the class. We may or may not be able to accommodate.

A minimum 48-hour notice via phone or in-person (not email) is required for class cancellations or rescheduling for reservations of one to three guests. A minimum 7-day notice via phone or in-person is required for class cancellations or rescheduling for reservation of four or more guests.
If you are unable to attend a class, you are encouraged to send someone in your place. We cannot make exceptions.


If you have a large group, consider a private party!

Got questions? Call, email, or check our FAQ page.


Classes are two hours, but duration is approximate and may vary by 10-15 minutes, it is best to plan accordingly.

For same-day booking, call us at 513.847.4474

Reviews help people choose which businesses they support. We always appreciate you sharing your opinions and photos on Yelp, Google, Facebook, and Instagram @thelearningkitchen. Thanks so much!


PRICE IS $175 PER COUPLE, PURCHASE 1 SEAT PER COUPLE